The Digitaal Samenwerkingsplatform emphasizes the need for digital measuring of home connections with GPS
The Digitaal Samenwerkingsplatform (DSP) emphasizes the guidelines for accurate, digital measurements of home connections. Starting from October first, 2022, the DSP will reinforce their new guidelines by being more thorough and selective in choosing partners that apply for home connection assignments.
Unreliable data currently causes unnecessary (repair) work due to excavation damages and the resulting social nuisance. The DSP therefore draws the line on October first and expresses a clear preference for reliable measurements with a GPS measurement system.
We are happy to tell you more about the upcoming changes and show you how your technicians can measure accurately and digitally with our solutions for the DSP. We can also provide a demonstration on location without obligation, so that you can personally see the advantages of our GPS measuring equipment and the simple method.
THE MANY ADVANTAGES OF DIGITAL MEASURING WITH GPS
Digital surveying of house connections with GPS is the fastest, easiest and most reliable method of measurement. It has therefore become more than just a continuity issue for many (sub)contractors, arising from the desires of the DSP, but also a direct opportunity to optimize work processes.
Geodirect supports parties to meet the new DSP standards and makes sure their work processes are being optimized for a far better competitive position on the market.
What benefits does Geodirect offer?
Digital measurement is not labour-intensive
digital measurement with our gps measurement solutions is very reliable
retraining within hours and then free support, also on location
anyone can measure professionally with stonex gnss equipment
data with exact, centimeter-accurate coordinates to the client
Why does the DSP emphasizes the need digital measurement?
Reliable information about the location of cables and pipelines and the social importance of drastically reducing the number of excavation damage is key. The digital measurement of house connections with Stonex GPS measuring equipment is in line with the stricter Information Exchange Act on aboveground and underground networks (WIBON). This law requires that all location details of house connections are accurately registered, to prevent damage from occurring when a private person wants to place a fence or garden gate, for example.
Manually dimensioning and sketching house connections using a tape measure, based on reference points along the facade, is much more labour-intensive and expensive than GPS surveying and does not appear to contribute in reducing excavation damage. Digital measurements, based on centimeter-accurate X, Y and Z coordinates, do not rely on human estimation and/or variable reference points. Digital surveying ensures reliable data and thus prevents excavation damage, extra work and social nuisance in the future!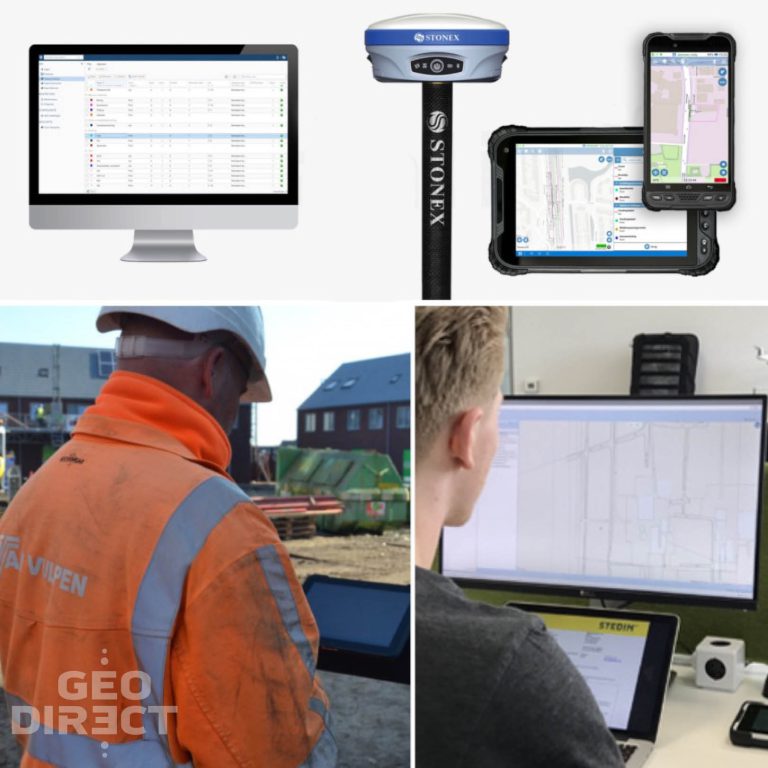 Digital measuring with GNSS systems and smart applications
Anyone can measure digitally with our GNSS systems and associated smart applications, such as geolantis.360. A user-friendly user interface that also replaces the need for specialist knowledge. After that, it is simply a matter of keeping the equipment in the correct location to register the correct x, y and z coordinates. The technician can easily, quickly and accurately arrange that all data is received by the work planner/drawing office via one comprehensive application. And after a final check, everything automatically uploads, via the Cloud, to the DSP. The process from measurement to delivery will only take a few minutes!
Are you hesitant because, maybe because of the new mechanics? Anyone can use our systems within a few hours. Would you like to know more about our solutions for digitally measuring house connections using GPS or would you like to make an appointment for a non-binding demonstration on location? Contact us.
Collaborating with Geodirect
Geodirect supplies professional solutions for digital surveying. Far ahead of the competition on elements that are now becoming critical. Our products are reliable, have an easy-to-use user interface and ensure an automated exchange of the measured house connections. From measurement to delivery in minutes!
We provide special tailor-made training, and after that support is free of charge. We do everything we can to make it as easy as possible for users. Within Geodirect we call this the Happy Flow. We think along from the interests of the mechanic and understand the desire for no-nonsense communication and quick action!
Do you want to know more or organize a practice demo on location?
Would you like to know more about our working method, the products and would you like to experience with your own eyes that what we promise actually offers benefits for your company? Please contact us directly.